Wild Sesame Getaway
This past weekend Chris, Keenie, and I packed up the ol' civic and headed 2 hours outside of DC to the first ever Wild Sesame Getaway. This weekend was jammed packed with intentional living activities, the food was AH-MAZING and the people were some of the kindest I have met since moving to DC. It was a weekend that I won't forget about for a while and an experience that will be hard to top, but I am getting ahead of myself!
Saturday
Wild Sesame Getaway was sponsored by Outdoor Voices, Getaway Cabins, and Little Sesame. It was held at the Getaway cabins for some major glamping. We arrived on Saturday and were greeted by the Little Sesame VW bus to grab our swag bags, find our assigned cabins, and sign up for the first of many delicious meals provided by Little Sesame. The friendly faces of the Little Sesame crew made me feel right at home (even though we had pulled into registration 10 minutes late). We had time to explore our "tiny house" style getaway cabin, scarf down some homemade hummus bowls and get ready for the afternoons activities.
This is where I think the impeccable planning came in to make this weekend something special. There were tons of different activities to choose from — honestly it felt like summer camp for adults. We could go on a group hike, foraging for tea, take a private cooking lesson, go on a winery tour… and if none of those met your fancy, they had maps to nearby Charlottesville activities.
Hiking.
Chris and I chose to get Keenie some exercise and headed out with the Outdoor Voices girl gang for a 3 mile round trip hike to a gorgeous waterfall. For as long as I have lived in the Appalachian Mountains, I don't believe that I have ever been to the Shenandoah section of it. IT IS SO GORGEOUS! It was like life was being breathed back into the mountain sides from the recent spring bloom! This was one of the first activities that let us meet new people while #doingthings.
Wine.
We then headed over to the Early Mountain Winery for a private tour. I have been to a lot of the wineries in this region, but I do have to say this one was hands down the most interesting. They grow grapes on two different sides of the mountain range, which allows them to pull different nutrients from different soils. All of the wines were crisp, flavorful, and delicious. I highly recommend their rose for the upcoming summer months if you are living in the Virginia/DC area.
Dinner, Music, Libations.
If the weekend couldn't get any better, we still had our happy hour, dinner, and music to come. We were greeted with signature cocktails that had garnishes found during the foraging activity. There was some sort of delicious looking meat being roasted over an open fire (I want to say shawarma? ) along with eight gorgeous tents for dining. Outside of the tents, you felt like you were on the set of MoonStruck Kingdom, but inside the tents you were transported to a Middle Eastern oasis. This is where the tiny, but thoughtful details made the evening even more special. Each tent sat eight people where you would share family style plates of hummus, roasted vegetables, and the fire roasted meat (skipped this section, but they made a bomb celery root shawarma too!) with gorgeous lanterns, eucalyptus, and candles hanging from the ceiling. We ate, chatted about Netflix & HBO shows, laughed… for a group of people that had never met before, it felt like we had known each other for years. We were strategically pulled out of our comfy tents to continue conversation while listening to the band, City Billies under the stars. It was such a fun night! Honestly, it felt like we were at a really cool house party full of friends.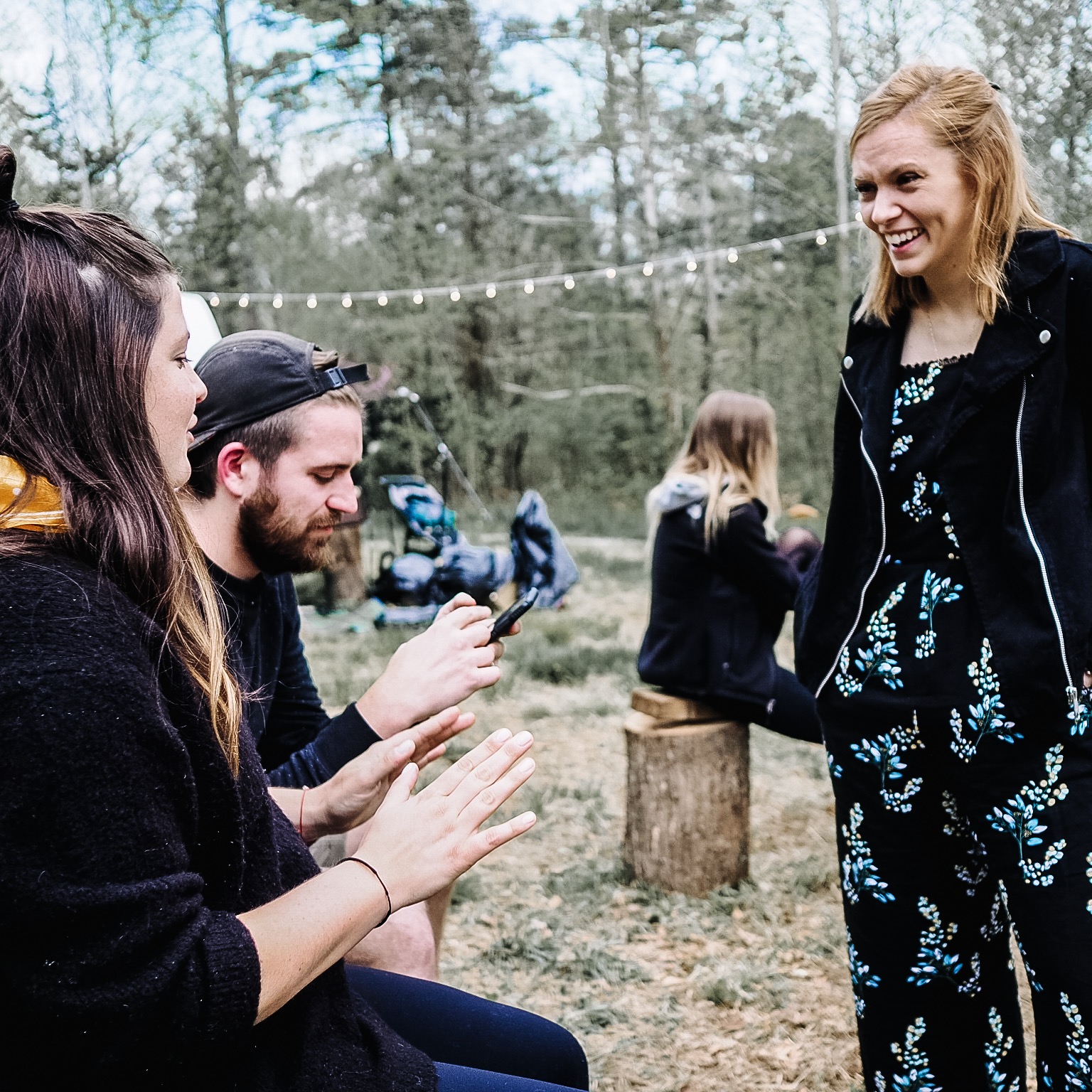 Sunday
Waking up to another delicious meal, was perhaps the perfect way to end the weekend. Little Sesame cooked Shakshuka, an Israeli egg dish stewed in tomatoes with bell peppers, onion, and a host of delicious spices. We had a ton of fun reliving the night before with our "tent mates" and said our goodbyes as we made our way back to our cabins to pack up and head home.
Reflections.
This weekend was magical and I feel so incredibly lucky to be invited by OV and Little Sesame to attend. I was incredibly nervous about going to this though… my introverted self makes it hard for me to strike up meaningful conversations and the first go & in other "meet and greet" events I have often felt disappointed that I was able to "network" better or make more contacts. This wasn't the case this weekend. There were tons of like-minded individuals that made it so easy to talk about our jobs, tv shows, living in DC. It was such a refreshing place to be and it will definitely be something I hold onto for years to come! Big big thank you to Outdoor Voices, Little Sesame, and Getaway Cabins for such an amazing retreat. If you are in the DMV area or even the Richmond, Charlottesville, Roanoke regions, I cannot recommend enough getting on these companies mailing lists to know when their next event in your neck of the woods will be.
Want to see a vlog recap of our Wild Sesame Getaway? Check it out below!